Log Home Repair & Restoration in North Carolina
---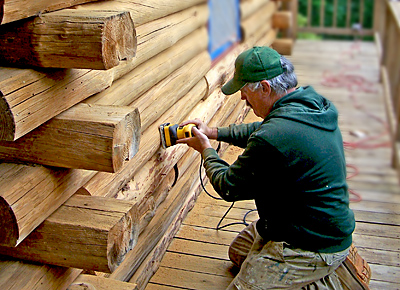 Stewart Thibodeau leads the log home repair and restoration industry in NC and Virginia. Stu has over 15 years experience restoring log homes and log cabins. From power wash cleaning and stripping, chinking and caulking, and wood stain application, Stu has successfully restored hundreds of log homes in NC. Read the testimonials and learn how Stu has provided excellent customer service.
Total Deck Care is a family owned and operated wood and deck restoration service started by Stu's son Jason Thibodeau, who provides log home restoration in New Hampshire, Massachusetts, Vermont, and Maine. Together Stu and Jason developed a log home restoration system that guarantees high quality results.
Total Deck Care has unbeatable customer service, the priority is always to educate the customer on the various procedures and products available, providing customers with options. Total Deck Care provides accurate estimates that will not change in the middle of a job with a guaranteed timeline for the completion of work.
You can check here for our log home repair and restoration service area in North Carolina
---