Leaders in The Wood, Deck®, and Log Home Restoration Industry
Since 1998, Total Deck Care® has proven, job by successful job, that we are the east coast's leading wood, deck, and log home restoration specialists. We provide service in The New England, North, and South Carolina areas. Whether you need to restore a deck, log home, maintain a fence, or protect a wood shingled roof, Total Deck care® will help you maintain your investment in the outside of your home or commercial property. Although we specialize in wood restoration, we can also maintain man-made properties like vinyl siding, brick and cement, or large commercial equipment.
At Total Deck Care®, we strive to build trusting, long-term relationships with our customers, by combining attentive and responsive service with quality work done by certified and trained professionals.
Thank you for considering Total Deck Care® to maintain and restore the beauty of your residential or commercial properties. We look forward to answering any of your questions and working with you.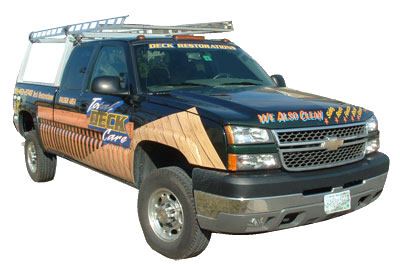 Certified and trained as wood restoration specialists, Total Deck Care® uses a high end, professional product for preserving and protecting wood. This wood restoration product is unlike any other on the market. We believe that its formula offers the best protection for wood, and unlike other companies, we guarantee it. Of course, Total Deck Care® is a fully insured company and has workmans' compensation on all employees.
Give Total Deck Care® a call Now
for a no obligation quote!

Check out my interview, The Deck Restoration Process on North Carolina Homes, one of the top sites for North Carolina real estate, including Apex, NC homes for sale. North Carolina Homes also services Florida real estate and Georgia real estate.
Member of PWNA