Log Home Repair & Restoration in New Hampshire
---
Jason Thibodeau, founder and owner of Total Deck Care, has been in the log home restoration business since 1998. Jason and his experienced crew, have restored hundreds of log homes in Coos County, Grafton, Carroll, and Strafford County NH. You can also find Jason restoring log homes in Orange County, Essex County, and Caledonia County Vermont. Please see our NH service area guide.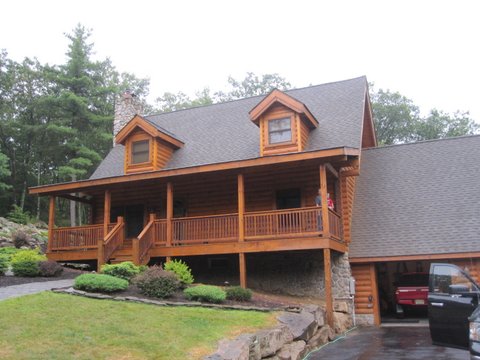 Total Deck Care has become a trusted name and brand in the log cabin restoration industry. With over ten years experience, Jason has developed a system for cleaning and restoring log homes with guaranteed results. The goal is to restore and protect the logs (wood) with quality products that are specially designed for log homes. Using the correct equipment to get the job done is equally important. And finally, every crew member working on log home restoration projects are certified wood restoration professionals.
Jason is well educated in all wood types and how each might react to specific products. With this experience, Jason can develop a comprehensive plan for restoring your log home. Starting with an in depth inspection of the log cabin, Jason will educate the customer of all the problem areas and advise with the appropriate plan to restore and or repair the log home.
Log home restoration products have become a real science, and like any technology the industry is always developing new and improved products. Jason is always on the lookout for new products that will add to the quality of his work and guaranteeing top customer satisfaction.
---